INDUSTRIAL PROJECTS
As the CENKABLO company founded in Gebze Plastikçiler Organised Industrial Zone, we have:
• an annual production capacity of 300.000 km/fibre optic cable,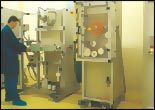 • fibre optic cable quality control laboratory equipped with the state-of-the-art technology and 2001 model machines of foreign origin,
• specialised engineer and technician personnel that have an experience up to 30 years,
• and a closed area of 6.200 sqm .founded in an outdoor area of 19.000 sqm.
INDUSTRIAL PROJECTS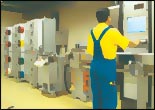 Various projects have been undertaken in co-operation with the American Petroleum company, CHEVRON and Azerbaijani companies in the field of petroleum products, LPG and Natural Gas in Azerbaijan and Turkey and the relevant works are still under construction.
UNIFIED INFRASTRUCTURE PROJECTS
Alibeyköy and Cebeci joint infrastructure projects designed for Istanbul Metropolitan Municipality by Cenay Group was planned with a method applied for the first time in Turkey and completed on turnkey basis.